A clean and attractive web design goes a long ways when it comes to gaining your potential customer's trust. We simply know what "looks" good and what doesn't. Combine aesthetics with proven conversion techniques, and you have a website ready to produce results.
Here at Web Marketing Solutions, we believe in clean and user-friendly designs. The type that leaves an imprint in your visitors' mind. We believe in websites that are efficient in their coding. And we also believe in letting our clients have the ability to change their content at any time. That's why we build most of our websites on the Wordpress platform. It's a very customizable interface that allows for our clients to actually be a part of their own website. We have found that the same clean web designs that we usually make can be built using wordpress.
For information on a professional web design, contact us today.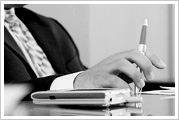 With Over 6 Years in the Business, You Can Count On Us to Deliver Honest and Truly Effective Services.
We have been through the ups and downs of the gigantic world known as the Internet. Having experience is key to creating successful campaigns and saving time.
Get Your Email Delivered!

In-Depth and Effective Data

Quickly Implemented Solutions

Expert Implementation of the Latest Search Optimization Techniques

Are You Targeting the Correct Audience?

Mr. Chris Hess
Thank you for your help with our resurfacing website. We've already seen a jump in the search rankings and I'm confident they'll continue to rise."
All stories